Ford Roundhouse – La Mesa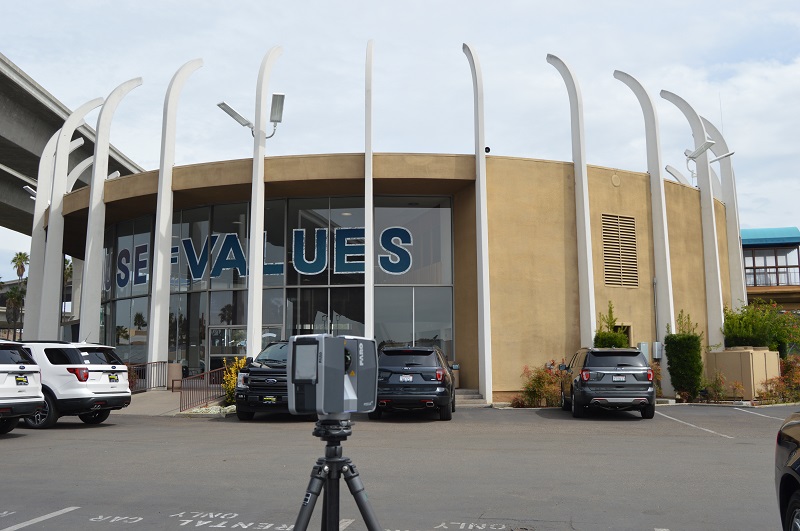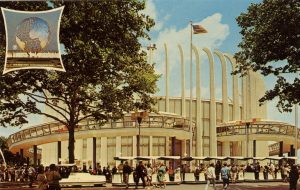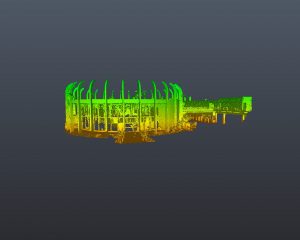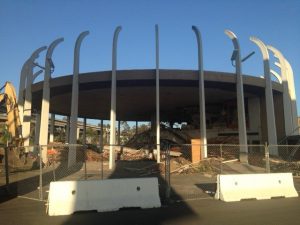 INSTRUCTIONS: Rotate the point cloud with your mouse.
LOCATION: La Mesa, California
DATE: 2018
ABOUT THIS PROJECT
The Drew Ford Roundhouse was inspired by the Ford Pavilion Rotunda at the 1964/65 New York World's Fair. Upon returning from the World's Fair, the dealership's original owner Elmer Drew, commissioned La Mesa architect James E. Hurley to create a structure that invoked the lines Los Angeles architect Welton Becket had developed for his masterpiece at the New York Fair. Paul C. Jacot served as the structural engineer.  When opening in 1967, 30 white pylons encircled the Rotunda showroom, with two additional buildings connected via a bridge that would provide for the dealership's service needs.
While widely known as the Roundhouse of Values, the Rotunda would not gain this name until the 1970s.  While many fondly remember Drew Ford as where they purchased their first car or truck, the dealership gained notoriety within the San Diego area for opening the Roundhouse for community events. This action made the Roundhouse more than just a commercial structure, to many, it had become a cherished member of the community.
While the SoCal Penske Dealer Group acquired the Ford dealership rights and buildings in 2014,  the Drew family maintained actual ownership of the property.  In 2016, a site development plan was approved by the City of La Mesa City Council, which called for the demolition of the existing new car showroom, used car building, and repair shop.  While the Roundhouse would not face demolition until the completion of a new showroom building, its days were numbered. Demolition began on June 21, 2018.
We will be adding new material to this page. If you have documents or photographs pertaining to the Roundhouse, please consider sharing them with the ChronoPoints so that we can continue to document the building's history.
---
ChronoPoints would like to thank Penske Ford La Mesa for their permission to scan the Roundhouse prior to its demolition. We also thank James Newland, President of the La Mesa Historical Society for his support of the project.