Robert Murkshe – Cocoa Beach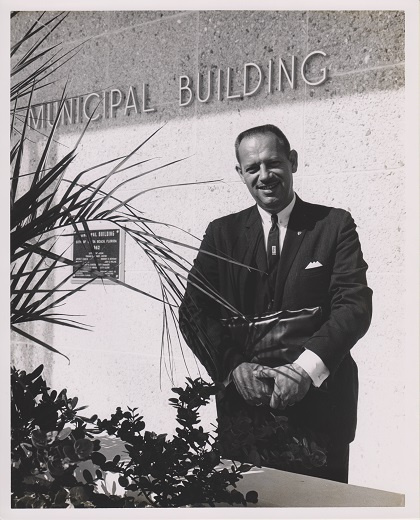 Serving as Cocoa Beach Mayor from 1963 to 1972, Robert P. Murkshe guided the city during a period of unprecedented expansion and set the foundation that permits Cocoa Beach to be a thriving community today. When the decade began, the city's population was a mere 3,475 and lacked a hospital, high school, junior high school, municipal recreation facilities, or many of the modern municipal government facilities. By the end of his tenure, the city acquired or expanded all of these facilities, and its population would exceed 12,000, which set the foundation for environmental preservation and became synonymous with the space program.
The space program brought with it the expansion of population, public services, and commercial facilities – but also made Cocoa Beach as well known as the astronauts. People came to watch the missiles fly and catch a glimpse of their astronaut heroes in frequent parades along A1A. And a visitor might also see other famous individuals – World War II aviator General James Doolittle, news anchor Walter Cronkite and yes, even television's Barbara Eden. So, there is a logical reason why there is an autographed photo of Buster "Flash Gordon" Crabbe in the accompanying image gallery. Prior to being a movie serial star, Crabbe was a gold medal Olympic swimmer in 1932 – he was the Mark Spitz or Michael Phelps of the era. Who was best to dedicate the municipal Olympic-sized swimming pool in 1966?
Do you have images of Cocoa Beach prior to 1975? Please consider sharing them with ChronoPoints. If you already have digital format images, send them to our email address – if they have not been digitized, we would be happy to digitize them for you.
The original gallery images are held by the Florida Historical Society and were digitized by ChronoPoints due to their historical significance to the City of Cocoa Beach.