New Smyrna Sugar Mill Ruins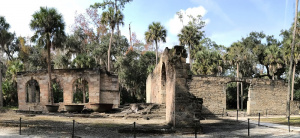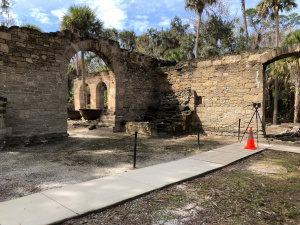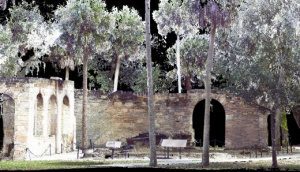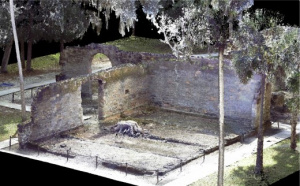 INSTRUCTIONS: Rotate the point cloud with your mouse.
LOCATION: New Smyrna, Florida
DATE: 2019
ABOUT THIS PROJECT
This laser scanning effort is part of a larger documentation project of the New Smyrna Sugar Mill Ruins being conducted by UCF Archaeology doctoral student Jessica Robkin.
Commissioned in 1830 by William DePeyster and Henry Cruger, the site now known as the New Smyrna Sugar Mill Ruins was a state-of-the-art steam-powered plantation constructed of coquina, a locally sourced sedimentary rock made of fossilized shells. The plantation was ideally positioned to take advantage of the booming sugar mill industry in this region of Florida. This industry, however, quickly met with disaster when the Second Seminole War broke out in December of 1835. One of the first to fall to the Seminole raiding parties, the Cruger-DePeyster Plantation was set aflame on Christmas day of that year. During the course of the winter, similar events transpired at sugar plantations across the region, systematically ending the sugar industry in the area. During the Second Seminole War, the ruins of the burned sugar mill were used by the military as a defensive position, incurring further damage.
After the war, the property was abandoned, and the ruins lay forgotten until the property was purchased in 1893 by the Connor family. Due to the impressive architecture, including still visible arches, theories swirled about the ruin's origin until Captain Charles Coe put the rumors to rest in 1941 with definitive evidence of the true background of the sugar mill. The 17-acre historic site is now a state park maintained by Volusia County, with walkways for visitors to use to explore the site without damaging the remaining structures. The park is open from sunrise to sunset, year-round, for visitors to come and explore.
The site had an incorrect designation as a Spanish Mission, the Mission Atocuimi De Jororo, with a construction date of 1696. This was reported in the original 1934 Historic American Building Survey (HABS) report. The site was officially confirmed as the New Smyrna Sugar Mill Ruins by HABS in January 2004. The original HABS report can be found here and provides a number of images as to how the structure appeared in 1934.
---
ChronoPoints would like to thank Volusia County Parks, Recreation, & Culture for their permission to scan the Sugar Mill. We also thank Robert Redd of Volusia County Parks, Recreation, and Culture for his onsite assistance.