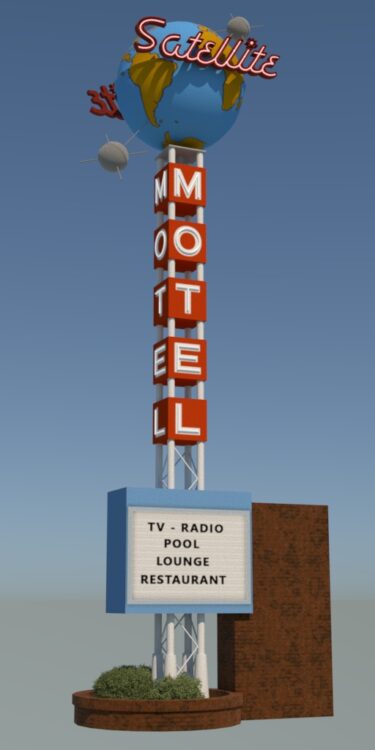 SENSEable Design Lab, thru its ChronoPoints Project, is recreating 3D signs from classic 1960s businesses in Cocoa Beach for our MemoryScan project.
A key aspect of our MemoryScan project is recreating 3D representations of 1960s Cocoa Beach and combining them with our laser scan of the current city.
Many of the signs from the 1950s/1960s reflected the significance of the space and missile industry to the community. The Vanguard Motel and the Apollo Building recalled actual space and missile projects. Others, such as the Satellite Motel, sported monikers that were generic space concepts. Space-sounding names like the Astrocraft Motel were also used. Most structure's signs used bright flashing neon that could have rivaled Las Vegas.
SENSEable Design is developing these 3D models of these space-themed signs, and those that were simply important to the community – The Surf restaurant/lounge or the Samoa Lounge, to use as landmarks within the environment.
If you have images, documents, or ephemera of Cocoa Beach during the 1950s or 1960s please consider sharing them with ChronoPoints. We can digitize them and return your original items.